Three we can't live without...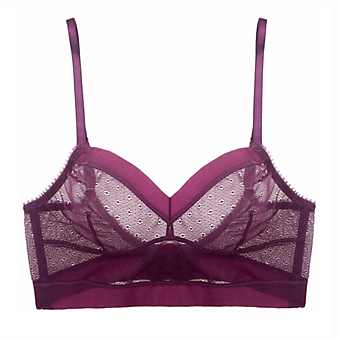 We'd meet this long-shadowed softbra, with its pointelle pin-dot star pattern, corseted sides, and stunning low scoop back after midnight any night.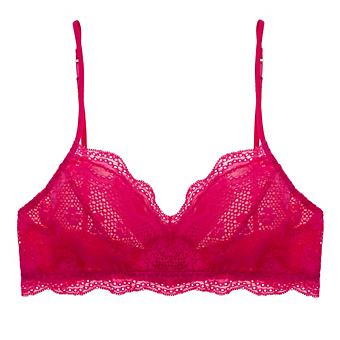 Snowflake soft stretch lace with a smooth floral pattern makes this softbra comfortable, adorable, and easy like a Saturday morning.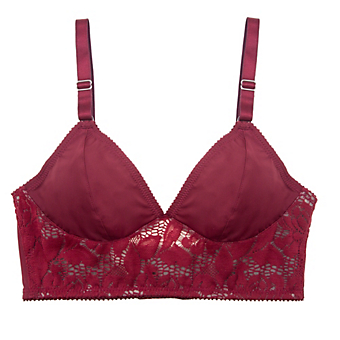 If you're looking for a stunning long-line soft bra that hugs curves, stays anchored, and gives serious oomph all with no wire, then, this is the piece for you.
Refine Your Results By:
Select up to three bra sizes to filter by.
Given the wide range of brands and styles that we carry at Journelle, chances are you'll wear at least a few different sizes - certainly across brands, but sometimes even in different styles from the same brand. We recommend that you select the size you have most recently worn plus two "sister sizes". For example, if you are a 32D, we recommend you look at bras in sizes 30E and 34C as well.
A little vice never hurt anyone, and this pin-up panelled, supremely comfortable, wide banded, plunging wireless bra is just the kind of addiction we can manage.

This mist-soft silk and cotton color blocked softbra is exactly what we wish we were wearing in an enchanted glen hidden from view of the post road. Effortlessly lovely, aye?

Sophisticated and modern, delectably sheer and soft, sweet cotton and luscious silk, this bottom has all of our favorite contradictions, which is just how we like it.

As if we needed another excuse to love this silky sheer chiffon tie-front bra, Beautiful Bottoms makes us swoon with a gorgeous graphic oiseau-chinoiserie pattern.

A comfy, cheeky, flirty, lovely and ready-for-Saturday-brunch-in-bed lace edged softbra and knicker set that has an adorable heart print and comes in a sweet tiny box? Gimme.

This little bralet and knicker set is so neon-sweet, we couldn't ask for anything else (except for some coffee, please, and turn your cell phone off and get back to bed).

Whew. Sometimes when you have so much structure and too much stricture going on you need to step outside for a little fresh air.

From the seaglass palette to the barely there silhouette, this deco-inspired openwork stretch lace triangle bra is so sweet we think it should count as dessert.

Whenever someone tells us we've got a future so bright we've got to wear shades, we always think "if you could only see what we have on under our clothes, nailed it".

With the really good stories, it's hard sometimes to know what's fact and what's been embellished for the sake of the tale...

This super soft bra slips on over your head and, once on, has graceful racerback panels, wide straps, and lining in the cups (for discretion) in the face of grace.

With lace edging, sexy peek-a-boo, sheer stretch construction, and cocktail party bow this little softbra is like effortless-girly-meets-inner-vixen. And we like that.

Snowflake soft stretch lace with a smooth floral pattern makes this softbra comfortable, adorable, and easy like a Saturday morning.

The petal sweet pink-and-white tongued iris blooms so lovely this time of year, and that's just what we think about this sweetly soft and delicately floral softbra.

This plunging black and hot pink plunging racerback is the exact right combination of eyelash batting sweetness and perhaps-we-should-so-something-a-little-naughty raciness.

Soft and simple, the spare construction of this stretch-cotton softbra is balanced out by the loveliness of the sweet picot edging.

With this beautifully executed and non-traditionally detailed long line softbra, we think we're in love. Vaguely tribal and totally fabulous we can't wait to rock it.

This sheer mesh and slinky panelled iteration of Fortnight's classic long-line softbra shape is truly effortless-modern. Perhaps it's their most minimally perfect version yet.

Hushed tones and lovely softness almost mask the architectural genius of this longlined softbra. Hugs curves, gives serious oomph without a wire, and is a total knockout.

This triangle bra (which delicately plunges and crosses over in the front) is finished with a luscious wide stretch band of Hanky Panky's signature stretch lace.

Lovely floral stretch lace, multi-panel construction and no rear closure (you slip it on over the head) make makes this wireless bralette, supportive, comfy, and lovely.

This slinky pink-and-black softbra makes us want to indulge our flirty side with sheer lace, ruched halter, and a picture perfect bow. Did we mention the pearl necklace?

This slinky, lacy softbra makes us want to indulge our flirty side with awesomely sheer lace, ruched straps, and a picture perfect bow. Heart.

When twilight starts to fall sooner, and the sweet peas are just a memory of spring, this softbra is delicate, lovely, shadowed like the autumn garden, something precious.

Don't we all need a little magic in our lives? This graphically strapped softbra feels like the stuff of legend, a woodland glade, a spell cast. Feeling witchy? We are.

We think that this gorgeous spotted and hearted triangle softbra, with its perfect zig zag embroidery, front closure, and stunning barely there shape is perfectly Manhattan.

You know when something is so soft and lusciously tactile that you can't stop touching it? Well this flirtatiously sensual softbra is just that...

Be still our beating hearts and our farmhouse fantasies! This sweetly lovely cotton softbra is so Sunday morning effortless we think we're ready for fresh scones in bed.

Obvious: gorgeous lace (soft scalloped against the skin and French-inspired pointelle), wide back band, oh-so-slender straps. Our little secret: fabulous front closure. BAM.

This simple, soft, and plunging mesh softbra is the equivalent of a blueprint or a Richard Serra sculpture. Basic, spare, just the essentials, architecture meets loveliness.