Three we can't live without...
This triangle bra (which delicately plunges and crosses over in the front) is finished with a luscious wide stretch band of Hanky Panky's signature stretch lace.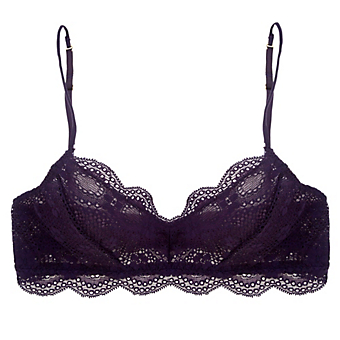 Snowflake soft stretch lace with a smooth floral pattern, sweet scalloping at the bust and band makes this softbra comfy, adorable, and easy like a Saturday morning.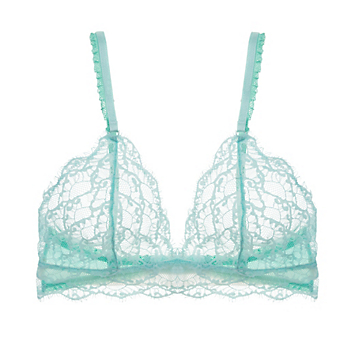 We've never seen a seaglass butterfly, but if such a wonder existed, then this is what its sheer gorgeous wings would look like...
Refine Your Results By:
Select up to three bra sizes to filter by.
Given the wide range of brands and styles that we carry at Journelle, chances are you'll wear at least a few different sizes - certainly across brands, but sometimes even in different styles from the same brand. We recommend that you select the size you have most recently worn plus two "sister sizes". For example, if you are a 32D, we recommend you look at bras in sizes 30E and 34C as well.
The search is over for a soft, supportive wireless bra. This beauty is made of 100% cotton with a pretty, scalloped edge and darted cups that provide a lovely shape.

We love the this softbra's clean lines, the crisp colors and the subtlety of the purposefully unfinished edges. It's like a minimalist girly-girl's answer to big pink bows.

Airy cotton construction, sweet shadowed clover silk deco panels, and luscious wireless softness make us long for August (and keep us basking all winter long).

Have you ever tasted raw sugarcane? We were served a drink one time in a warm and adventurous place...

We love the juxtaposition of the spare architecture, the industrial-banded take on the classic racer-back shape, and the band of petal pretty lace that ties it all together.

The delicate strapped Y of Bazsarozsa's Wishbone bra calls to mind its magical namesake, be luxurious with what you wish for, you just might get it.

If we close our eyes we can feel the floaty ribbon ties of this gloriously airy softbra fluttering against our skin on the balcony...

As if we needed another excuse to love this silky sheer chiffon tie-front bra, Beautiful Bottoms makes us swoon with a gorgeous graphic oiseau-chinoiserie pattern.

With sweet plunging cups, a wide band of glorious-against-the-body longline-lace, pretty palette, and side underwire and boning, this lacy softbra is sinfully lovely.

A comfy, cheeky, flirty, lovely and ready-for-Saturday-brunch-in-bed lace edged softbra and knicker set that has an adorable heart print and comes in a sweet tiny box? Gimme.

This little bralet and knicker set is so neon-sweet, we couldn't ask for anything else (except for some coffee, please, and turn your cell phone off and get back to bed).

When our days seem a little heavy, we could use something freeing, unstructured, soft. Shaping darts, a rolled-edge cup, and aire mesh is just the ticket.

With the gorgeous Venetian seaglass color palette and the lovely delicate Murano-glass patterned trim...

This luscious triangle softbra isn't really for your average kitty, more for for a fierce summer-jungle cat...

The wide bands of stunningly sexy lace that make up the cups is gorgeous against the skin, while the no-dig band is ever-so-comfortable to the point of feeling indulgent.

Of all the gin joints, in all the towns, in all the world, this barely there stunner walks into ours...

With the really good stories, it's hard sometimes to know what's fact and what's been embellished for the sake of the tale...

Eberjey's classic little plunging triangle bra shape gets a gorgeous-against-the-skin upgrade in the shape of a beautiful bandeau lace overlay.

This vintage-inspired pointelle racerback softbra is a throwback to a simpler time, one of effortless elegance, wide perfect panels of deco lace perfect for a week-end.

With lace edging, sexy peek-a-boo, sheer stretch construction, and cocktail party bow this little softbra is like effortless-girly-meets-inner-vixen. And we like that.

If we leave here tomorrow, will you still remember me? We must be traveling on, because there's too many places we've got to see.

This lovely, lacy, light and airy, subtly longline softbra from Eberjey is fairytale precious in hues of seaglass blue and depression glass pink.

Snowflake soft stretch lace with a smooth floral pattern, sweet scalloping at the bust and band makes this softbra comfy, adorable, and easy like a Saturday morning.