Three we can't live without...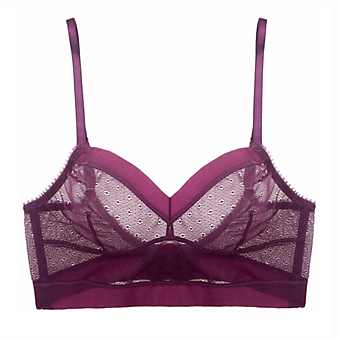 We'd meet this long-shadowed softbra, with its pointelle pin-dot star pattern, corseted sides, and stunning low scoop back after midnight any night.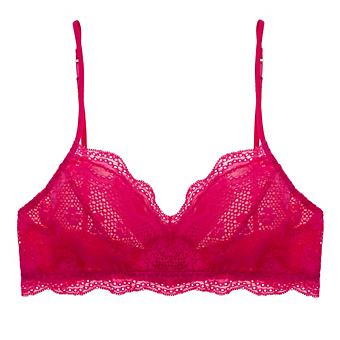 Snowflake soft stretch lace with a smooth floral pattern makes this softbra comfortable, adorable, and easy like a Saturday morning.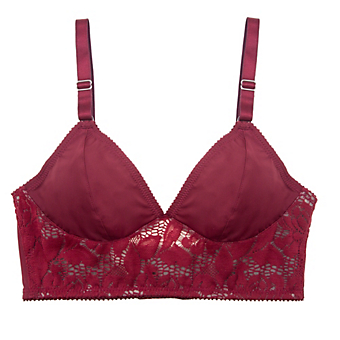 If you're looking for a stunning long-line soft bra that hugs curves, stays anchored, and gives serious oomph all with no wire, then, this is the piece for you.
Refine Your Results By:
Select up to three bra sizes to filter by.
Given the wide range of brands and styles that we carry at Journelle, chances are you'll wear at least a few different sizes - certainly across brands, but sometimes even in different styles from the same brand. We recommend that you select the size you have most recently worn plus two "sister sizes". For example, if you are a 32D, we recommend you look at bras in sizes 30E and 34C as well.
Lovely floral stretch lace, multi-panel construction and no rear closure (you slip it on over the head) make makes this wireless bralette, supportive, comfy, and lovely.

This slinky pink-and-black softbra makes us want to indulge our flirty side with sheer lace, ruched halter, and a picture perfect bow. Did we mention the pearl necklace?

This slinky, lacy softbra makes us want to indulge our flirty side with awesomely sheer lace, ruched straps, and a picture perfect bow. Heart.

Exquisite embroidery like filigreed shadow, wireless silhouette soft like the smell of orange blossoms, and the lace against skin is powerful enough to stir the night winds.

When twilight starts to fall sooner, and the sweet peas are just a memory of spring, this softbra is delicate, lovely, shadowed like the autumn garden, something precious.

Don't we all need a little magic in our lives? This graphically strapped softbra feels like the stuff of legend, a woodland glade, a spell cast. Feeling witchy? We are.

This barely-there lace-and-silk triangle bra has lace like a tesselation, cord straps like a suggestion, shape supernatural, the overall effect: staggering.

Two words: corseted softbra. Two more words: staggeringly sexy. That's pretty much all you need to know about this lighter-than-air, barely-there, eyelash-laced stunner.

We think that this gorgeous spotted and hearted triangle softbra, with its perfect zig zag embroidery, front closure, and stunning barely there shape is perfectly Manhattan.

You know when something is so soft and lusciously tactile that you can't stop touching it? Well this flirtatiously sensual softbra is just that...

Sweetly sheer and naughty by nature, this cross-over peek-a-boo cupped softbra is simply stunning. Add on the, ahem, bow-tie rear closure and we're coucou for Only Hearts.

Be still our beating hearts and our farmhouse fantasies! This sweetly lovely cotton softbra is so Sunday morning effortless we think we're ready for fresh scones in bed.

Obvious: gorgeous lace (soft scalloped against the skin and French-inspired pointelle), wide back band, oh-so-slender straps. Our little secret: fabulous front closure. BAM.

We can't. It's too perfect. Sequins like a pile of treasure, silver inset in the band, and a to-die for vintage shape and this is a folie we're happy to be a part of.

Luscious silk contrast panels and the eponymous fine French Leavers Lace is so gorgeous against the body this practically gives us heart palpitations. You Fancy, huh?

We'd meet this long-shadowed softbra, with its pointelle pin-dot star pattern, corseted sides, and stunning low scoop back after midnight any night.

Our favorite kind of loveliness, this petal pink and sweetly sensuous softbra features cutting edge laser-cut-lace technology, crisp and gorgeous and totally fresh.

With a glorious, gorgeous bow and classic shape the only way this tulle corseted long line bandeau bra could be any more French would be if it came with a beret.

With fabulous colorblocking, grosgrain and elastic bands, and seaming, this graphically sweet softbra has us transitioning effortlessly from Sunday brunch to Monday yoga.

Prettily paneled, with delicate one-seam shaping, fabulous cross-back, and luscious oxblood silk, this little bra hits all our sweet spots. Lily, rosebud, and love.

If Lilies aren't our favorite, then lilacs are, and with one fell swoop of blossom inspired love this lovely little softbra from Zinke steals our hearts...