Signature Lace Studded Cuffs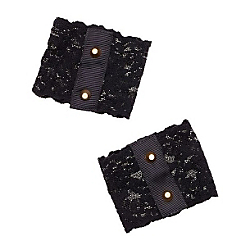 These cuffs are bold, straight up. Signature stretch lace is 90's femme, while gilt studs are totally 90's punk. Boudoir or on the town, these are meant to be flaunted.
Learn More
http://www.journelle.com/accessories/boudoir/hanky-panky-signature-lace-studded-cuffs/HAN-48STCUF-One+Size-Black.html
Variations
Product Actions
Though we are over the moon for the return of the slip dress, we think our favorite 90's comeback is the stud. Like something out of Madonna's "Express Yourself" video or the "Straight Up" video, these black lace and bold studded cuffs are the perfect compliment to bold eyeliner and/or Doc Martens. We can't wait to show them off, straight up.